The Norway Maine Opera house is currently under renovation and actively fundraising to bring back its important place in the Norway community and downtown. One board member, Annie Somers, is leading the charge with a fundraiser called the Street Dance. She's an active musician with a love and passion for the area she calls home.
Here's a recent interview with Annie:
What is the Creation Completed's 2021 Street Dance?
The Street Dance is a really good time! Some may remember we did this in 2015. We've been asked ever since to do it again and we are returning on August 21st, 2021.
Street Dances evolved in the mid- 60's after the Beatles appeared in America on the Ed Sullivan show in '64 and the ensuing British Invasion. The Street Dance is a natural development of the 60's rock scene when teens hurried to buy guitars, tube amplifiers, drums and organs to start their own bands. We are a band that started that way as teens in the 60's founded by Alan Bean.
Coming out of the 50's early rock and roll and Elvis and Chuck Berry and Chubby Checker, by the time the Beatles came along the mid-60's saw new styles of dancing sweep across Amercia.

People from all walks of life were suddenly singing and dancing to this new renaissance of creative rock music that was unleashed from across the ocean brought by the advent of the Beatles and the British Invasion. New bands formed all across the country. TV

Shows featuring couples dancing to the performances of live bands evolved, and teen centers sprang up all over including here in the Opera House. Rock concerts were new and rare, but everyone wanted to go to one. Bands playing in parking lots was the creative and logical use of available open space. Our Street Dance is a celebration of the art forms of early rock and it's street dances during this incredible era in history.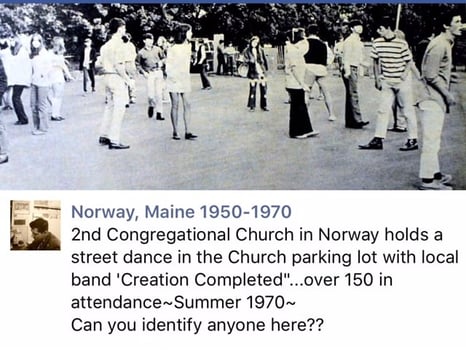 Image from Advertiser Democrat circa 1970
Who's performing at the Street Dance?
Creation Completed featuring Alan Bean, Bill Holden, Annie Somers, Karan Shaw Bracy, Andy Whitney with Tom Chandel and Mark Perakslis performing exclusively 60's music!
Milltown Roadshow featuring Terry Swett, Jack Jolie, "DJ" Diane Maddix, and John Sparrow performing some rock tunes from the old rock era and some originals including My Sweet Maine!
Old Dogs New Tricks featuring Fred Foster and Rusty Wiltjer performing rock music from the 60's and early 70's!
How did you come up with the idea of the Street dance?
I went to my first street dance in 7th grade in South Paris. I joined Creation Completed in late summer following 8th grade, we performed music at some Street Dances. They were popular in the 60's and early 70's, as were teen dances and beach parties, and anywhere bands could play.
The idea of it being a Street Dance in 2015 came from some moments over a period of time.
In 2011, I was home a lot twice per month to help when there was a death in our family. A thought on a drive back to VT was: I'm here so often, maybe I should play some music while I'm here. Next natural thought was of Creation Completed bandmates, I wondered how they all sound now, I bet everyone had continued to develop and grow musically. I thought: I'd love to hear them, I'd love to hear what we all could do now.
In 2013, another moment that is part of how it came about, a keen awareness of the the passage of time and how important it is to value and appreciate everyone I care about and value each day and value time.
And another moment: I was working on computer one night and a Creedence song just popped into my mind. And I thought of how no band I've ever known does Creedence like Creation Completed does. The band has a great ability for that swampy rock feel, and David's voice on Creedence was unreal. Just genuine appreciation of that capability of Creation Completed. I felt grateful for having had the opportunity to have joined them, it was the first real band for me. I realized I wanted to hear them again. And I felt like celebrating them as human beings and as musicians. I wanted to thank them.
In another moment months later, I spontaneously contacted Alan and Karan, I couldn't find Billy or David or Roby on Facebook. And I asked if they would want to get together with original members of Creation Completed one time to do a gig, for old times' sake and for fun? And Alan and Karan each said yes. Alan said we needed to wait until next year (until summer of 2015) due to a musical play he had written the music for that he was busy with that would run in August.
I called Billy and David and asked them if they'd want to in a year and they both said yes. David said "if you can get six people together in one place, then God bless you!" Alan had said he wanted to be who asked Roby and Alan did.
It is just what came to me when I wondered where a gig like this should take place and considered different venues for it. I saw a clear picture of nighttime, outdoors, stars in the sky, a warm summer night, Alan, Billy, Roby, David playing their instruments with their beautiful sounds filling the air smiling and people enjoying them. And that is how I knew it had to be a Street Dance.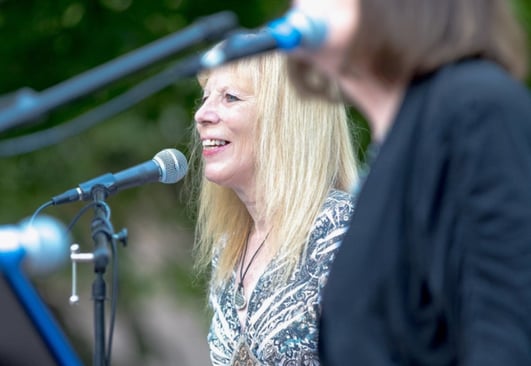 Above: Annie Somers Singing at the 2015 Street Dance
What started your love of the Norway Opera House?
I grew up near the Opera House, within a stone's throw. Our home was where the medical building is now, when it was Bridge Street, before the name was changed to Pike's Hill Road. The clock and the bell, no one in the entire neighborhood from there to Pleasant Street to Maple Street to Oak Street to Beal Street etc. needed to wear watches. We always knew what time it was. We lived by the clock and bell tower, happily.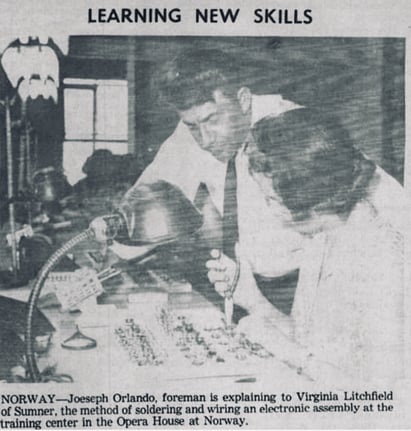 Dad had been asked by National Radio Company to open a branch in Maine. The electronics manufacturing plant first opened in the Oper
a House temporarily while the new building for the plant was being built by John Schiavi on Alpine Street. He also had a love of education, and offered learning to those interested in electronics. This is a photo of the plant's foreman, Joe Orlando, providing some training at the Opera House.
In 1966, Norway and Paris had combined together with a focus on a need to provide more for our area's youth. The twin towns developed a position of Norway-Paris Director of Recreation and hired young Mike Rozos. Mike established a year-round Recreation program. Among Mike's wonderful achievements he developed for the community, he created the Norway-Paris Recreation Center which he housed in the Opera House on 2nd and 3rd floors. I, along with many kids from Norway and South Paris, spent many hours over the years enjoying the Rec Center on a regular weekly basis. My love of the Opera House began with the proximity and the clock and the bell, and familiarity from Dad's plant temporarily having been there, and the many enjoyable times in the Rec Center over the years. Later, as I was approaching Freshman year, Creation Completed performed one of the first gigs I ever played at the Opera House for teen dances.
In 2015, rehearsing the music for the Street dance, Billy said he would like it to help a cause, too. I asked around downtown about what cause could most benefit from some help. In a random conversation with Brenda Melhus, I mentioned this and Brenda told me the Opera House stage area needed a lot of help. I brought that back to Alan, David, Billy, Roby and Karan. We all were immediately up for helping the stage and performance area, the 2nd and 3rd floors of the Opera House. It was an "absolutely without a moment's hesitation" kind of thing, we all love the building and Creation Completed performed at dances at the Opera House back in the day.
After first seeing the interior of the 2nd and 3rd floors in 2015, I think we all were very surprised at the amount of damage inside the Opera House
I have felt since 2015 if I can help that building become functional again in my lifetime, why wouldn't I do that? I will be overjoyed to see to it all repaired, and up and running again, and it needs everyone's help.
August, 21st @5:00pm - 11:00pm
Location: Longley Park Square ( Across from the Opera House)